Welcome to the Wisconsin Dairy Goat Association
The Wisconsin Dairy Goat Association website is a comprehensive source of information for anyone interested in goats from commercial dairies to hobby farmers to 4-H and FFA students.
—————————————————————————————————-
Nominations for select sale animals are now being accepted please download the following form and return to Barb Knilans or Jason Puterbaugh. Does and Bucks of all breeds being accepted.
—————————————————————————————————-
**Press Release** Click here for Brochure.
April 17, 2015
Contact: Gene Schriefer, gene.schriefer@ces.uwex.edu, 608-930-9850
FAMACHA Producer Workshop
(Control of Internal Parasites in Sheep and Goats)
A workshop will be held in Arena, Wisconsin on Saturday, June 27, 2015 on Intensive Parasite Management and Grazing and Pasture Management for sheep and goat producers. Focus of the program will be use of the FAMACHA score card for assessing internal parasitism in sheep and goats.
FAMACHA is a diagnostic tool developed in South Africa to help farmers identify Haemonchus contortus (Barber Pole worm) infection in sheep and goats. The tool is a chart that matches eyelid color to anemia levels, an indicator of parasite infection. This type of diagnosis allows farmers to target treatment only to infected animals, which in some systems has reduced use of deworming agents by 90 percent. Not only do farmers save money, they significantly reduce the likelihood of causing parasites to become resistant to dewormers. Identification of susceptible and more resistant animals enables producers to make more informed breeding and culling decision in managing their flocks and herds. Attending an approved training session, such as this FAMACHA Producer Workshop, is the only way that a producer can obtain a FAMCHA score card.
Jim Morgan, Operations Manager with Katahdin Hair Sheep International, Fayetteville, Arkansas will make presentations on intensive parasite management and use of the FAMACHA score card, and Gene Schriefer, Iowa County Agriculture Agent, Dodgeville, Wisconsin will make a presentation on grazing and pasture management. Vince and Nancy Pope will host the workshop participants at their Double Ewe Farm, Arena, Wisconsin in the afternoon for hands-on training in use of the FAMACHA score card using their Katahdin sheep.
The morning and early afternoon program will be held at Grandma Mary's Café, 216 Hwy 14, Arena, Wisconsin followed by hands-on use of the FAMACHA score card at Double Ewe Farm near Arena in mid-afternoon. Registration starts at 10:45 a.m., and the hands-on program at the farm should conclude by approximately 4:30 p.m. Advance registration is required ($30 per person, $20 per person for each additional family/farm member) and is limited to the first 65 people registering. Lunch and the FAMACHA score card are included.
Contact Gene Schriefer, Iowa County Extension Office, 303 W. Chapel St., Dodgeville, WI 53533 (608-930-9850, gene.schriefer@ces.uwex.edu, http://iowa.uwex.edu/) for a brochure and registration form or for more information. The brochure and registration form also can be found at the University of Wisconsin-Madison, Department of Animal Sciences, Extension Sheep and Goat web site (http://fyi.uwex.edu/wisheepandgoat/).
————————————————————————
Pay your 2015 Membership ONLINE!! Click here
Focus on Goats 2014 was a success if you would like information that was presented please click here for more info.
Here are the committee chairs: For any more information please contact the chair directly… any and all help is greatly appreciated!
Fall Conference, Education & Field Day- Cheryl Johnson & Patti Millard
Youth Programs- Vicki Tonn
Public Relations- Derek Jones & Cheryl Johnson
Sale & Raffle- Jason Puterbaugh & Barb Knilans
Share- a Kid- Cindy Hoehne
Show- Dan Considine
National Show bid- Tom Considine
The Budget & meetings committees will be the board of directors.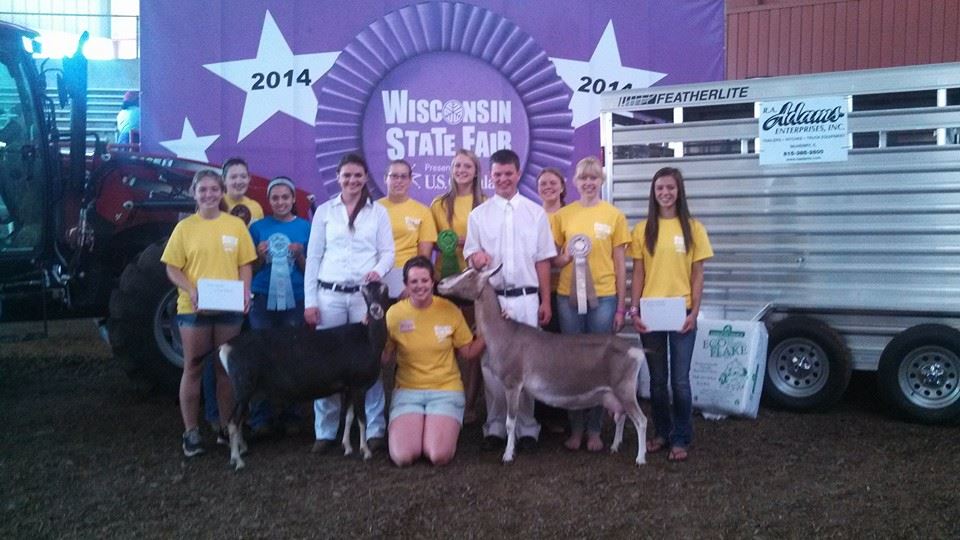 Congratulations to Hannah Shilts the 2014 WI State Fair Supreme Champion Showperson and Shawn Lamers 2014 WI State Fair Youth Best Doe in Show.
Did you know…….
Here are a few tips and tricks when using the ADGA Genetics on the ADGA website:
http://adgagenetics.org/ADGA%20Genetics%20Tips%20and%20Tricks.pdf
——————————————————————————————————————————